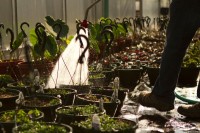 Miscanthus Morning Light
Morning Light is noted for its very narrow green leaves with white variegation on the margins. Foliage has an overall silvery appearance. Typically forms an upright, rounded clump of foliage growing 4-6′ tall. Tiny reddish-copper flowers appear above the foliage in mid to late September, gradually turning into silvery white plumes as the seeds mature. Flower plumes persist well into winter providing good winter interest.
[bulletlist]
Full Sun and does not need much water
Deer Resistant
Good for Dried Flowers
Seaside/Salt tolerant
[/bulletlist]
Holiday Hours
July 3rd
8:00 am – 5:00 pm
July 4th
8:00 am – 12:00 pm
OUR BIGGEST SALE YET!
[starlist]
All Flats $9.99
All Hanging Baskets Buy 2 get 1 FREE
All 4″ Proven Winner Annuals – 25% Off each or 40% Off when buying Full Flats.
All Flowering Patio Pots Buy 2 get 1 FREE
[/starlist]
Must present this offer at time of purchase, limit one per customer, good while supplies last, not to be combined with any other offers or coupons.
At Colonial Nursery we have a well where we get our water. If you feel that you need any water for your container gardens or special plants, please feel free to bring down a 5-gallon container that we can fill for you. You can bring it down during our nursery hours, as many times as you would like!