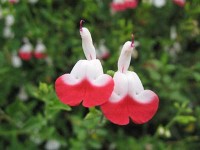 Salvia – Hot Lips
For the June Tuesday Tips, we will be highlighting one perennial each week and giving you suggestions of where you can plant it. This type of salvia has delicate red and white blooms create a stunning show throughout summer. Deer resistant!
Planting Tips:
[checklist]
Lots of sun!
Height – 30″
Attracts hummingbirds and butterflies!
[/checklist]
Want to learn more about attracting butterflies to Your garden? Colonial Nursery invites you to join Master Gardener Patrice McCoy as she discusses "Attracting Butterflies to Your Garden". Win free plants through Colonial Nursery with our butterfly raffle! Free class though registration is required.
Don't hesitate to contact us at the nursery if you have further questions. We are here to help you!
Be the first person to stop down to the nursery this Saturday (we open at 8am!) and find the perennial collection tag with the smiley face sticker, wins that perennial for FREE! We will have more than one prize available but only one winner per family.  We want everyone to join in the fun so stop by on Saturday and see if you can be the lucky winner!