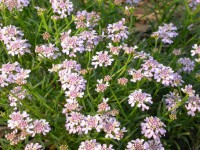 Iberis Sweetheart
For the summer Tuesday Tips, we will be highlighting one perennial every other week and giving you suggestions of where you can plant it. The Iberis Sweetheart has beautiful pink blossoms which turn to brilliant lilac. Also known as Candytuft.
Planting Tips:
[bulletlist]
Full sun
Drought resistant
Use as edging, in rock gardens, or near the front of the border.
[/bulletlist]
It's SALE time!
Buy two hanging baskets, get one free! All full flats, $9.99 (originally $12.99)
Not to be combined with any other offer. Don't hesitate to contact us at the nursery if you have further questions. We are here to help you!
REMINDER
Thursday is the last day to guess how many gumballs are in the jar!  Make sure you fill out the form when you are checking out.  You can win a $50 gift card!