Basil
For the May Tuesday Tips, we will be focusing on one herb tip each week and including a recipe! This week we will focus on Basil. Basil is best known as the culinary herb mostly used in Italian cooking. Leaves can taste similar to anise and have a with a strong often sweet smell.
You can save a lot of money by growing your own herbs! Definitely swing by to pick up your basil plant!
Planting Tips:
[bulletlist]
Fresh basil grows really well in both indoors and out. You can certainly choose to plant them directly in the ground or you can opt to use large containers to control the growth.
Basil requires full sunlight to flourish.
Pick single leaves for quick garnishes. When harvesting whole stems, cut just above a joint in the plant where two stems are starting to grow. This step helps the plant to grow bushier, thus creating even more leaves.
Be careful to not allow your plant to grow buds or flowers. That means the basil is ready to go to seed and causes the leaves to become bitter. Clip the buds as soon as you see them.
The best way to store freshly clipped basil is in a glass of water in a shady place, much like flowers.
Watch for pests – bugs can like basil as much as we do. Keep an eye out if the plant looks wilted or has white specs.
You can also plant basil in a container! Thinking about starting a container garden this spring? Our vegetable container class is Sunday 5/27 from 9:30-10:30am. Stop by the nursery or call 732.530.3838 to sign-up! The class is $10 and you will leave with your own lettuce bowl containing 4 vegetable or herb plants.
[/bulletlist]
Don't hesitate to contact us at the nursery if you have further questions. We are here to help you!
Roasted-Tomato Basil Soup
(From The Barefoot Contessa)
[bulletlist]
3 pounds ripe plum tomatoes, cut in half lengthwise
1/4 cup plus 2 tablespoons good olive oil
1 tablespoon kosher salt
1 1/2 teaspoons freshly ground black pepper
2 cups chopped yellow onions (2 onions)
6 garlic cloves, minced
2 tablespoons unsalted butter
1/4 teaspoon crushed red pepper flakes
28 oz. canned plum tomatoes with their juice
4 cups fresh basil leaves, packed
1 teaspoon fresh thyme leaves
1 quart chicken stock or water
Preheat oven to 400 degrees.
[/bulletlist]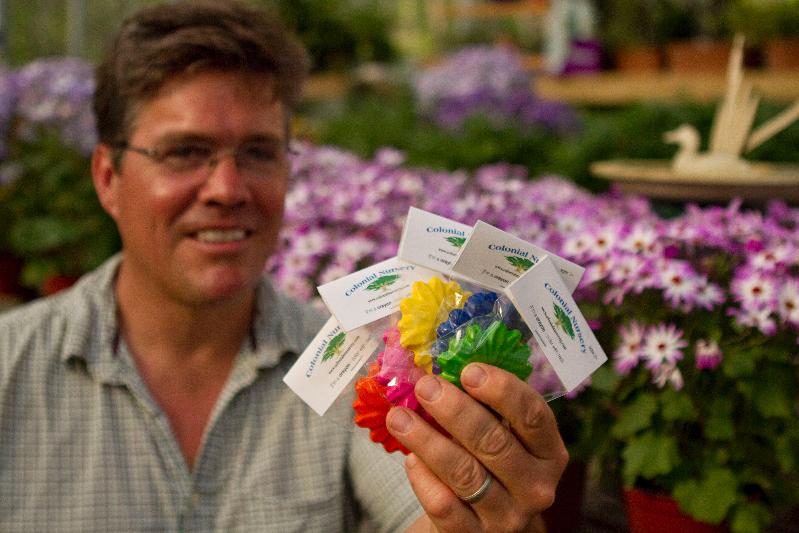 Toss together the tomatoes, 1/4 cup of olive oil, salt and pepper. Spread the tomatoes in one layer on a baking sheet and roast for 45 minutes.
In an 8 quart stockpot on medium heat, saute the onions and garlic with the 2 tablespoons of olive oil, butter and red pepper flakes for 10 minutes, until the onions start to brown. Add the canned tomatoes, basil, thyme, and chicken stock. Add the oven-roasted tomatoes, including the liquid on the baking sheet. Bring to a boil and simmer uncovered for 40 minutes. Pass through a food mill fitted with the coarsest blade. Taste for seasonings. Serve hot or cold.
Enjoy!